In the five issues this year, Beadwork Magazine will publish five beaded bead patterns. The
February/March issue
included the first, Seeing Stars," by Beadwork editor Melinda Barta. On
Cindy Holsclaw's blog
, she posted a few pictures of the ones she made. The
April/ May issue
, featured an 3-paged version of
Gwen Fisher
's Cube Cluster design (we sell a much easier to read and much longer pattern at
beAd Infinitum
; read more about it on
Gwen's blog
).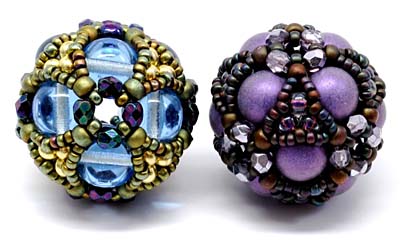 Gwen's lovely beads even made the cover!
On page 92, they advertise the continuing series of beaded beads and include an image of my contribution, "Stargazer Beaded Bead," which will appear in the June/July/August issue. Beadwork Magazine gave me permission to post images of the design early, in hopes that some of my excitement will rub off on y'all. So, without further ado, may I introduce the Cubic Stargazer Beaded Bead:
Look for the design in the next issue of Beadwork Magazine! This technique creates an extremely hollow though sturdy beaded bead. The cube is the only bead with this technique that I gave to the magazine, but I had to, try to reproduce the idea in several other geometric shapes. My favorite is the dodecahedron, but it is the size of a golf ball.
Stargazer Dodecahedron
The octahedron is cool, too, as you can see four faces at a time, so there are lots of triangles to see at each glance. It is the same size as the cube, so might make some interesting jewelry.
Stargazer Octahedron (left) and cube (right)
You'll be excited to know that
Cynthia Newcomer Daniel
designed bead number 4 and
Cindy Holsclaw
designed bead number 5 in the series. I am honored to have my work in such company!